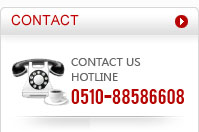 Add:Zhang Maqiao, Xinyuan Road, Ehu Town, Xishan District, Wuxi
Contact:Zhu Wei
Mobile:+86-13601486235
Tel:+86-510-88586608
¡¡ +86-510-88585432
Fax:+86-510-88585807
E-mail:sales@wxsnwj.com
Postcode:214115

Our company is located on the shore of the beautiful Tai Lake, Hongshan Town of the Wuxi City High Development Area. Close to the Wuxi High Development Zone, only 5 kilometers to the Shuofang Highway, our company enjoys very convenient transportation.
Our company is specialized in the production of all kinds of pressing parts. We have ability of designing, developing high accuracy molds and continual molds and examination of all kinds of jig tools. We also offer all kinds of services, such as mold making, stamping & pressing, SMM, and powder painting. We also have the major testing facilities and exceptional technical abilities of designing & developing.
With senior staff and equipment of 10T-400T turret punch, computerized Numerical Control and CNC machines, our company can also provide precise-processing of precise spare parts.
Our company offers a long-term setting service to American CIS Corporation, Phillips, Hydro, Race Sturmey Archer, Globalgreentech, Rieter and more companies. We are also ISO9001 certified, and own ability of self-running export and import.
Our company warmly welcomes the visit and instruction of worldwide new and old customers. Thanks!

Principle of Enterprise
From your standpoint, we use special skills to strive for perfect quality and the humane extra-value services.